Empower Your Customers to ask for assistance.
– Placing Help request devices in key areas enables customers to ask for assistance with a push of a button.
Empower your store teams to anticipate the customer's need for help.
– Indyme's Sensing Technology determines assistance opportunities based on shopper behavior and triggers notifications to store team.
Indyme's solutions optimize engagement for your business model. Whether you're a self-service or high touch retailer, Indyme's team of experts can tailor-fit a solution to meet your goals.
Improve Customer Satisfaction
Improve Conversion and Average Ticket
Recover Lost Sales From Locked Merchandise
Increase Operational Efficiency
Drive Performance Through Metrics and Analytics
Key Features
Easy installation – Wireless, battery-operated devices mount easily to any fixture.

Mobile-enabled – Solutions are beacon ready and can integrate with your current mobile platforms.

External triggers – Notifications can be triggered by external devices such as IP cameras, Smart Sense devices, etc.

Touch Screen Integration – Indyme's Solutions easily integrates with any touch display.
Applications
Customer Facing – get real time notification of assistance and engagement opportunities in key areas of the sales floor.
Provide assistance at high value merchandise areas.
Recover lost sales at locked merchandise areas.
Know when help is needed at unmanned service counters.
Enable help requests at price checkers and kiosks.
Get notified when help is needed at high assist areas.
High assist areas where help is necessary to make a sale.
Associate Facing – automate associate-to-associate interaction.
Automate daily tasks like cashier requests and manager requests.
Send reminders for sweeps, store walks, inspections, etc.
Data Driven Insight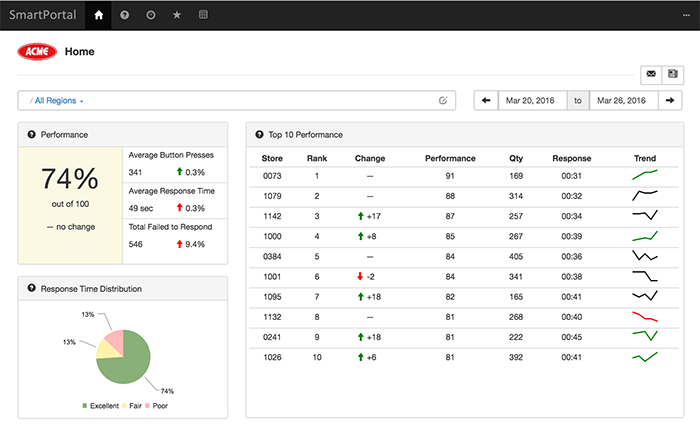 The activity data gathered is stored in a secure, cloud based platform where you can access reports in real-time. SmartPortal™ reports provide unique insights into shopper activity, empowering management to take actions that increase staffing effectiveness, build sales, and reduce shrink.